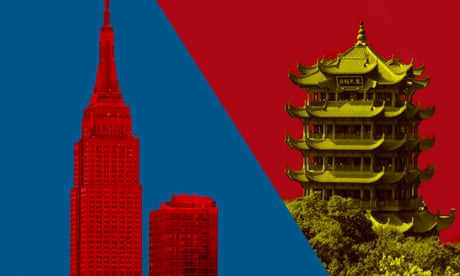 The Guardian - Publicerad för för 3 dagar sedan
Many are beginning to fear the world may soon be caught in the crossfire between Beijing and Washington
In July 1971, US national security adviser Henry Kissinger embarked on a secret mission to China, then America's sworn enemy. This 48-hour ice-breaking trip paved the way for Richard Nixon's historic handshake with Chairman Mao a year later. Nixon's visit altered the strategic geometry of the cold war and influenced Washington's subsequent movement towards détente with Moscow.
Half a century on, as Joe Biden arrived in Cornwall to attend the G7 meeting, there was a looming sense of history in the making again – one that involves the talk of allies (a group of like-minded democracies) and adversaries (notably Russia and China). It is also one that invokes memories of the cold war in the 1970s, when strategists like Kissinger crafted the art of balancing power between the US, China and the Soviet Union.
Related: Kissinger's 1971 Downing Street lunch that never was
Related: Failure to improve US-China relations 'risks cold war', warns Kissinger
Related: US-China tensions soar as 'new cold war' heats up
Continue reading...
Se fler nyheter från The Guardian