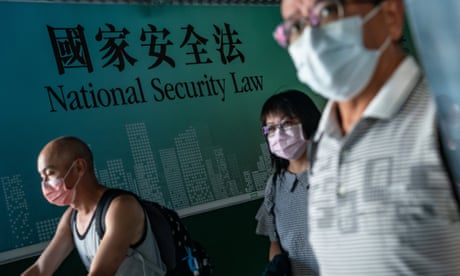 The Guardian - Publicerad för för 5 dagar sedan
Critics say broad scope of crimes targeted by law marks full takeover by China

Beijing has imposed a controversial national security law on Hong Kong, giving the Chinese government sweeping powers over the semi-autonomous territory in a move critics say will crush its freedoms.
Late on Tuesday, China unveiled the full text of the anti-sedition law which targets the crimes of secession, subversion, terrorism and collusion with foreign forces, with penalties as severe as life in prison.
Among the most serious penalties, between 10 years to life in prison for suspects charged as leaders or "core members" of committed crimes.
Beijing setting up a national security agency in Hong Kong to "guide" the implementation of the law. Mainland officers will be given immunity from local law.
The law being implemented by Hong Kong police and courts, but with three scenarios where Beijing can exercise jurisdiction over national security cases: those involving "complex situations of foreign interference extraterritorial forces" difficult for the Hong Kong government to oversee; "serious circumstances" where the Hong Kong government cannot effectively enforce the law; and situations where China faces "grave and real" threats.
Trial without jury, as granted by Hong Kong's secretary of justice, in cases related to national security that require the protection of "national secrets" or "foreign factors".
Allowing the press and public to be barred from observing the proceedings of some trials that involve "state secrets" or risks to public order. Secret, closed-door trials are often used in mainland China in cases involving political dissidents.
Hong Kong police being allowed to take "various measures" to investigate national security crimes, including intercepting communications, covert surveillance, and requesting information from service providers and from overseas political organisations and authorities.
Allowing the national security agency in Hong Kong, overseen by Beijing, to "strengthen" the management of foreign non-governmental organisations and news agencies.
Continue reading...
Se fler nyheter från The Guardian